Introduction
A lot of people will have heard of the HIHO, it's been going in one form or another since the 80's. For those that haven't - it's a week long windsurfing (and now SUP) race through the British Virgin Islands. HIHO stands for Hook In and Hold On - a description of the events racing ethos with long distance reaching and down wind races. A combination of yacht sailing holiday – home for a week was a 40 foot catamaran - and windsurf racing around some of the most stunning scenery in the Caribbean. The current incarnation – the Highland Spring HIHO - has been going since 1993 Under the direction of Andy Morrell and for the last few years has added Stand Up Paddle boarding to the windsurfing races.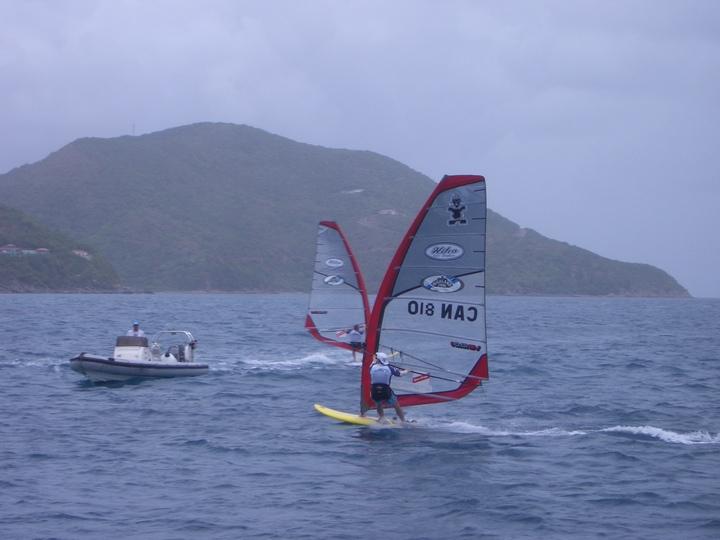 The Windsurfing
OK this is not your typical windsurfing holiday destination, winds while we were there were 15 to 22 mph and for some reason feel much lighter than that speed would in the UK (I know, I know, I've read the theories and debates about whether "foreign" wind is the same as plucky British wind). I used an 8.5 m2 throughout and could have done with a bit more on some days. Its flat water sailing as in there's no breaking waves but the races in particular can be a few miles off shore so the swell is up to 2m and there are currents and boats to navigate so a different kind of challenge. Options for windsurfing outside the race are limited compared to more mainstream windsurfing destinations, a lot of the anchorages and stop overs are in sheltered bays so the wind is light and gusty until you get out to the wind line. The racing is competitive and got closer and more exciting as the week went on and people got dialled in to their equipment and the conditions but the camaraderie is great - just as racing should be. On the penultimate day one of the local BVI guys bust his second sail in as many days 15 minutes before the start, one competitor rushed back to the boat to get his spare to loan while a couple of others helped quickly de-rig and re-rig so he could make the start - a fantastic atmosphere to race in.
All the windsurfers this year sailed one-design class which means Bic Techno 148 l boards and up to 10 m2 sails. Boards and rigs can be supplied by HIHO so you don't need to drag your equipment with you. Andy even loaned us one of his son's small rigs so my wife could get out and sail in the afternoon. The gear from HIHO is pretty good but its not new every year and the team have a lot of equipment to hand out so its definitely worth checking it all over when you get it so any problems can be swapped out. Check UJ's, ropes, battens and tack pulleys - the last of these seemed to cause a few failures during the week.
I found the races quite challenging at first but did OK, in fact 5th overall and 2nd in the Masters class. I probably haven't raced in 20 years and a lot of my windsurfing is at Watergrove reservoir or West Kirby with trips to wavier spots being fairly infrequent so heading out my goal was just to finish all the races, which not everyone did. Races are a mixture of upwind/downwind triangles, downwind slalom and straight downwinders. The courses were probably 5 to 10 miles but with tacking upwind and a series of broad reaches off the wind you cover three or four times that distance - 7 miles on one tack is interesting!
The Holiday
It's basically a sailing holiday, living on board a 40 foot catamaran (or the more spacious and air conditioned 46 foot option) with lunch and dinner provided at a different location each day. The food is top notch and full marks go to the catering team who manage to provide fresh sushi, salad, chicken and fish on a remote beach for 65 hungry sailors and paddlers. The trip takes in a lot of the highlights of the BVI, exploring the rock formations at "The Baths", snorkelling on the reefs, visiting deserted beaches like Sandy Spit, even an afternoon on Richard Branson's Necker Island. Andy changes the itinerary each year and tries to include some special locations. A boat is by far the best - if not only - way to see the islands. Dinners and partying are a big feature and the boats moor each night off some great spots with evocative names; The Bitter End, The Last Resort (host to the pirate party), Coco Maya (one of the best settings for a restaurant I've ever seen). The organisation is pretty fluid and relaxed but everybody pitches in and everything seems to work - which boats are going where and who's going on each boat, for instance as windsurfers, SUPers and non-racers can all go to different places.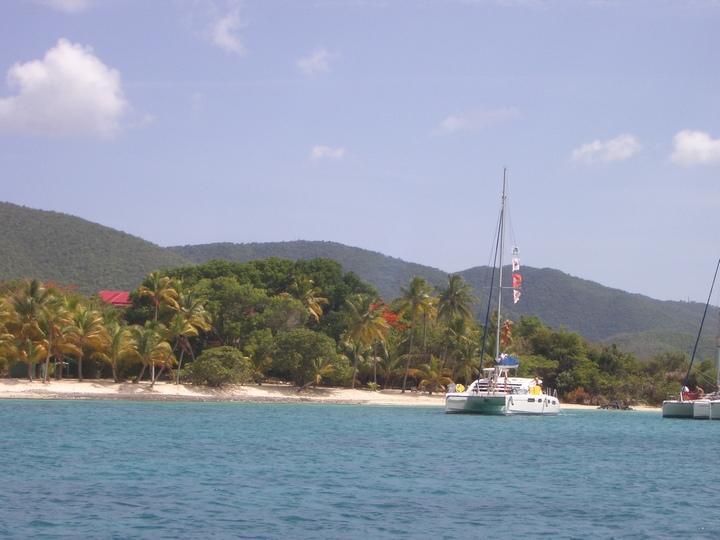 A Typical Day
Wake up in your cabin, breakfast on board then jump in the dingy to shore for the 8:30 skippers meeting where the race course and start times are explained. Back to the boat and get the gear to wherever you're rigging up. Rig up and prepare for the race, race starts 10:30 to 11:00. Race past some stunning scenery with a finish on the beach - running to the flag if it's been a close race. Waiting on the beach is cold Highland Spring Water and Red Stripe. Drink fluids and talk over the race while the yachts and SUPers arrive. Lunch is served right on the beach. Spend the afternoon relaxing on the beach, snorkelling, trying out SUPing before relocating to the next beach or marina. Then a dip in the turquoise water to cool off, followed by drinks on board, fabulous dinner, music and dancing.
The "other half's" perspective
Expectations were high for this holiday, due to the destination, high profile of the event, and of course the price. I wasn't competing, but wanted to windsurf in the downtime so hired some kit from HIHO. We spent the first few days in Nanny Cay, but each day my kit didn't show up "because I didn't think it was windy enough to bring it over". On the first day of the event, we went to collect all the gear to find the sail I'd requested had been double-booked but I could have a smaller one! In the end it made little difference because the only opportunity I got to windsurf during the week was at Long Bay, Beef Island - I made the most of it and had a fantastic sail! I'm an intermediate windsurfer but the other locations had a strong current, a marina packed with boats, or we didn't hang around long enough to rig up.
The organisation didn't improve through the week - no-one knew what was happening or when, so there was a lot of time spent waiting around. The saving grace was captain and crew on our boat, Powder Days, who were all excellent company - they really made the holiday for me, I couldn't have asked for a better bunch to hang around with.
Whilst the windsurfers and paddlers were competing, I ran round the boat helping the captain with mooring and anchoring - we didn't get much opportunity to hoist the sails so mostly motored around between islands. There's also plenty of opportunity to go snorkelling, and an amazing variety of fish to see.
In hindsight I would have entered the one-design paddling competition. It was a good group of people who looked out for one another, the courses aren't too long, and I would have felt included in a group, which it was difficult for a hanger-on to achieve.
Practicalities and tips
Travelling out to the BVI from the UK is fairly straight forward if a bit long. We flew with BA from Gatwick to Antigua, then on a LIAT flight from Antigua to Beef Island (Tortola) with a quick stop off in St Marten. Other options are to fly via various airports in the USA then to Porto Rico then to Beef Island, or USA to St Thomas then take the ferry to Road Town, Tortola.
The One design SUP class is not too challenging, so if you have teenage kids or other halves that have at least stood on an SUP before they could give it a go
The snorkelling is great, so if you have gear take it and if you don't then get some when you're there.
The HIHO is only 7 days, so it's worth tagging on some days before or after. We went for a few days on Tortola beforehand so I could try the kit. Other popular options were St Barts or St Thomas.