Speed Ladder.
Ever wondered how fast you can go and how it compares to others? Well here's your chance to find out!
Most people who use a GPS (not too seriously) whilst windsurfing at our Club choose a Garmin Foretrex 101 or 201 (you can enter waypoints so it's okay for cycling and other sports too). These cost upwards of £85 for a new one on Ebay, but can cost twice that. Decathlon sell a different make of GPS for £80 and there are plenty of other makes and models that may also be suitable and you can try for 2nd hand too.
If you want to compare your speed (in knots ~ 1knot = 1.151mph) with others throughout the whole of the UK and Europe have a look here . A Navi-GT31 GPS and an Aquapak case are recommended if you are more serious. It uses an SD card, so you can download data to your computer without needing any special leads. The GT31 has come down in price to about £115, so not so different now from a Garmin.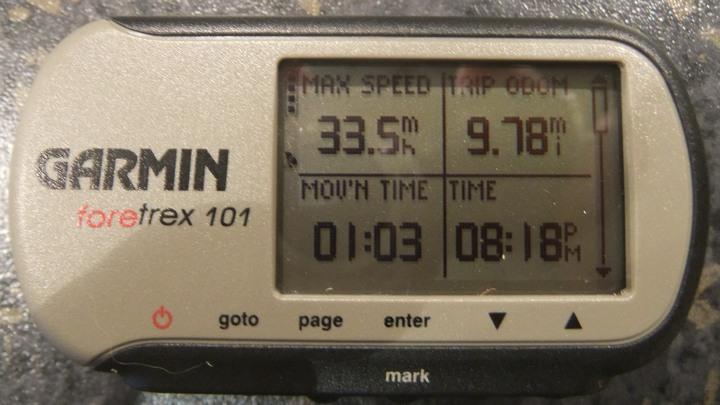 We'll keep things simple - no need to get the calculator out!
How it works ....
Email your single highest speed of the day in mph (or knots but just make it clear which)
Include in your email the details in the table below

and the name of the person who has validated the speed
You can have one entry in the ladder for Watergrove and one for another venue.
This email address is being protected from spambots. You need JavaScript enabled to view it.
The best speeds to date were as long ago as 2011 and 2012 - Andy Whale with 34.8mph at Watergrove and Andy Pepper with 35.0mph at Fleetwood. We'll wipe some older speeds if/when you send us some new ones. So come on, what are you waiting for?!
Look here at new record set in November 2015 - 53.27 knots = 61.3mph!
Or here at previous record - 48.7knots = 56.0mph!
Gump of Juice Boardsports managed 52.4mph at West Kirby in September 2010!
Name

Date

Speed (mph)

Place

Board

Sail

Watergrove
1
John Lymer
5th May 15
33.5 (& 30.6 on 16/9/16)
Watergrove
Fanatic Hawk 110
Simmer Style 5.5m

2




Darren Kell




26th March 16




32.8




Watergrove




Starboard Futura 114




Gastra Matrix 6.5m




3

Andy Pepper

18th July 17

32.6

Watergrove

F2 Sputnik 134

Neil Pryde RS 7.8m mk3

4

Chris Peartree

27th Mar 16

31.8

Watergrove

JP Magic Ride 118 FSW

Gaastra Matrix 6.0m

5
Dave Martin
26th Oct 14

30.0 (& 29.5 on 26/3/16)

Watergrove
JP Supersport 127
Gun X-race 6.5m

6

Stuart Pearson

4th Oct 17

29.5

Watergrove

JP Xcite Ride 130

Neil Pryde Jet 6.9m

7

Mike Stemmer

27th Aug 15

24.5

Watergrove

JP Xcite-Ride 130

Demon Windspeed 6.5m

max

Andy Whale
22nd May 11
34.8
Watergrove
F2 XTC Ltd
North Natural 6.2

m

Other

1

Andy Pepper

13th May 12

35.0

Fleetwood

F2 Sputnik 295

Neil Pryde RS Slalom 7.8m

2

Darren Kell

28th Oct 17

33.2

Fleetwood

Starboard Futura 114

Gaastra Matrix 6.5m

3

Andy Williams

13th May 12

31.0

Fleetwood
Starboard Futura 122
Tush Storm 6.25m

4

This could

be you ....

????

????

5

????