Details

Last Updated: Sunday, 03 July 2022 21:13
Wing foiling
By Gabrielle Earnshaw
Wing surfing / wing foiling is a sport that has exploded in popularity over the last couple of years. You use a 'wing' to power yourself to ride a board, often with a foil. It is a cross-over of disciplines, popular with windsurfers, kitesurfers, SUPpers, prone surfers, as well as those who are new to wind / watersports. It is well established at WPWC, with small group of keen regulars, and occasional visitors.
I took up wing foiling after 15 years of windsurfing, and it's so much fun, I haven't windsurfed since. While you don't get the same feeling of speed that you get when blasting in the harness and straps of a windsurfer, the feeling of flying you get with wing foiling is like nothing else I've tried.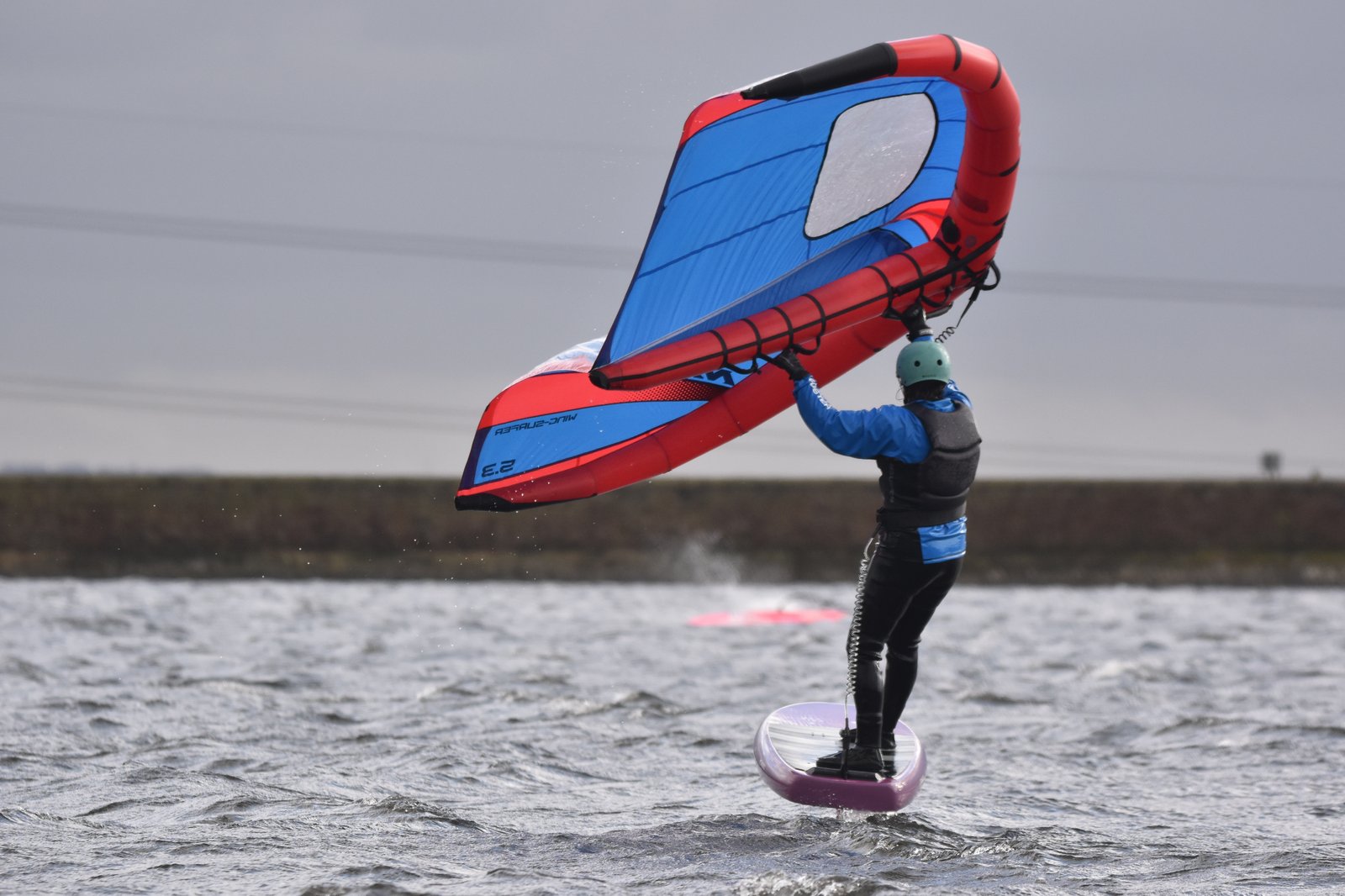 As a new sport, it attracts a lot of questions both from other club members and passers by. I've rounded up the questions I am frequently asked when winging.
Is it easy to learn? Yes and no. For complete beginners, it's accessible and easy to get into. For someone with experience with watersports, you probably have a bit of a head start, but expect to feel like a complete beginner. You'll be spending a lot of time falling in, and walking or swimming your kit back upwind. It's hard work!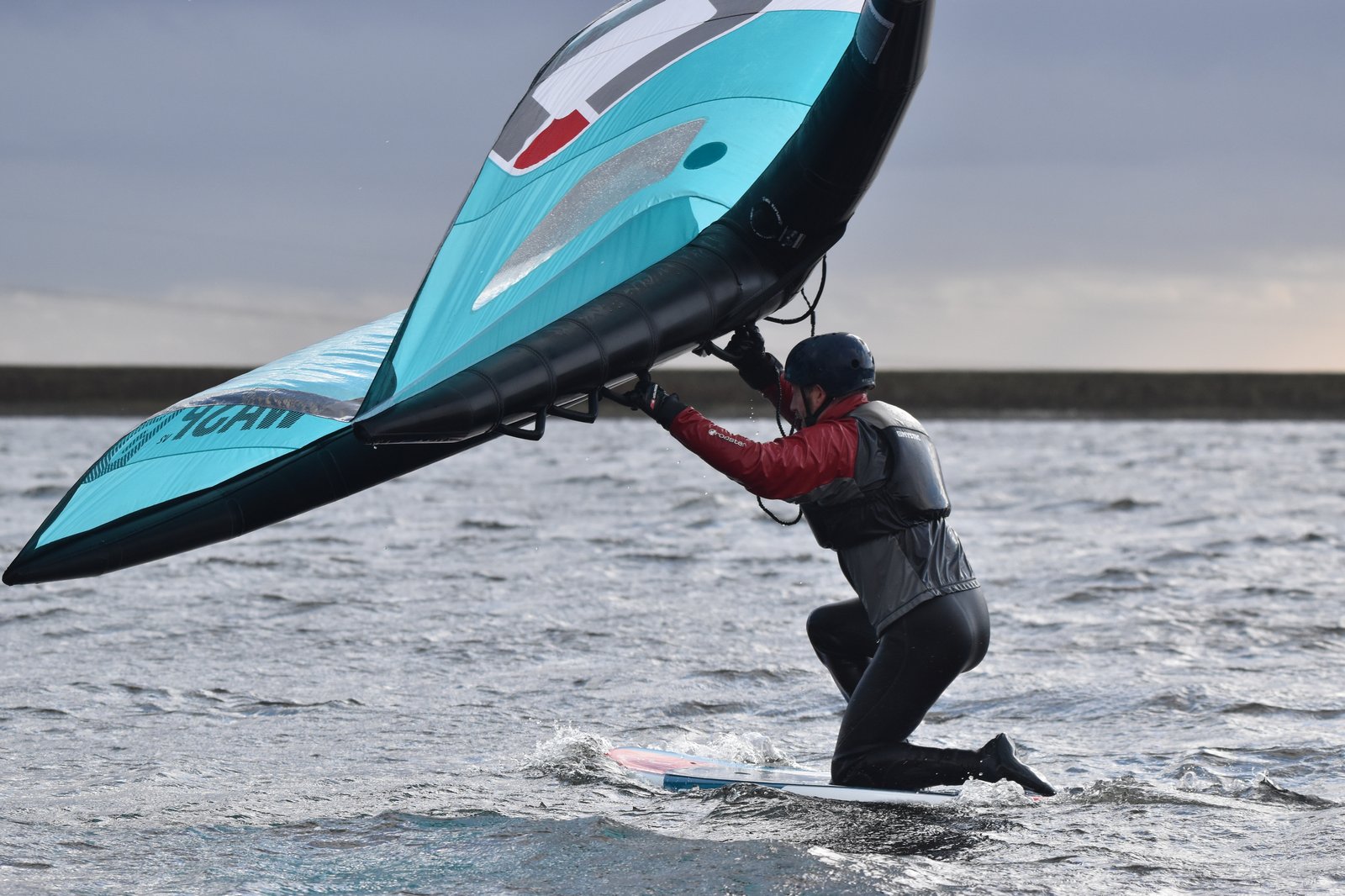 Is it easier or harder than windsurfing? It depends on your perspective. It's physically easier, and it's less technically demanding, meaning you can progress to a given level faster. However if you're comparing being an advanced windsurfer with being a beginner wing foiler, being a beginner wing foiler feels harder.
Is the technique similar to windsurfing? No, not really. There are some obvious similarities, but it feels quite different. The stance is more like snowboarding that windsurfing, and you are much more upright and central over the board. You don't have a rig attached to the board to help you balance, and the technique to get on the foil is quite different to getting on the plane when windsurfing.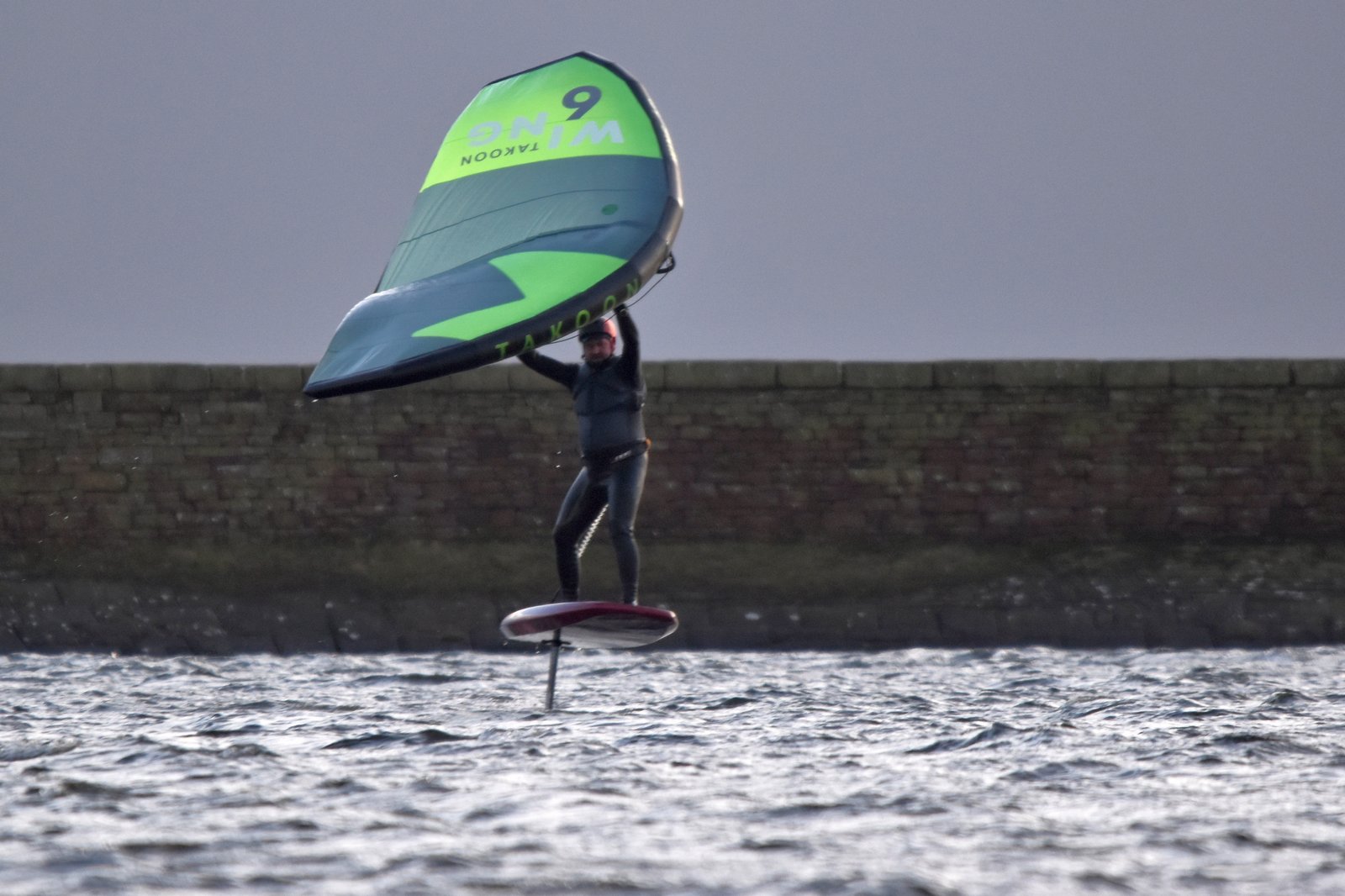 Is it hard to keep upwind? At first, yes. As you get more proficient it gets easier, and when you're on the foil it's quite easy.
Is it expensive? Yes, very, particularly if you're foiling. It's a new sport, so there isn't much second hand kit yet. As a beginner, you outgrow your kit quickly, so you're likely to progress to a smaller board and foils within a few months. At the same time, kit is evolving quickly, so you might want to upgrade within a few years, and kit you buy now might not hold its value well.
Is the kit easy to transport? Yes, it's small and portable. The wing fits into a backpack, and the boards are much smaller than windsurf boards, which means you can fit a full set up in the back of a car.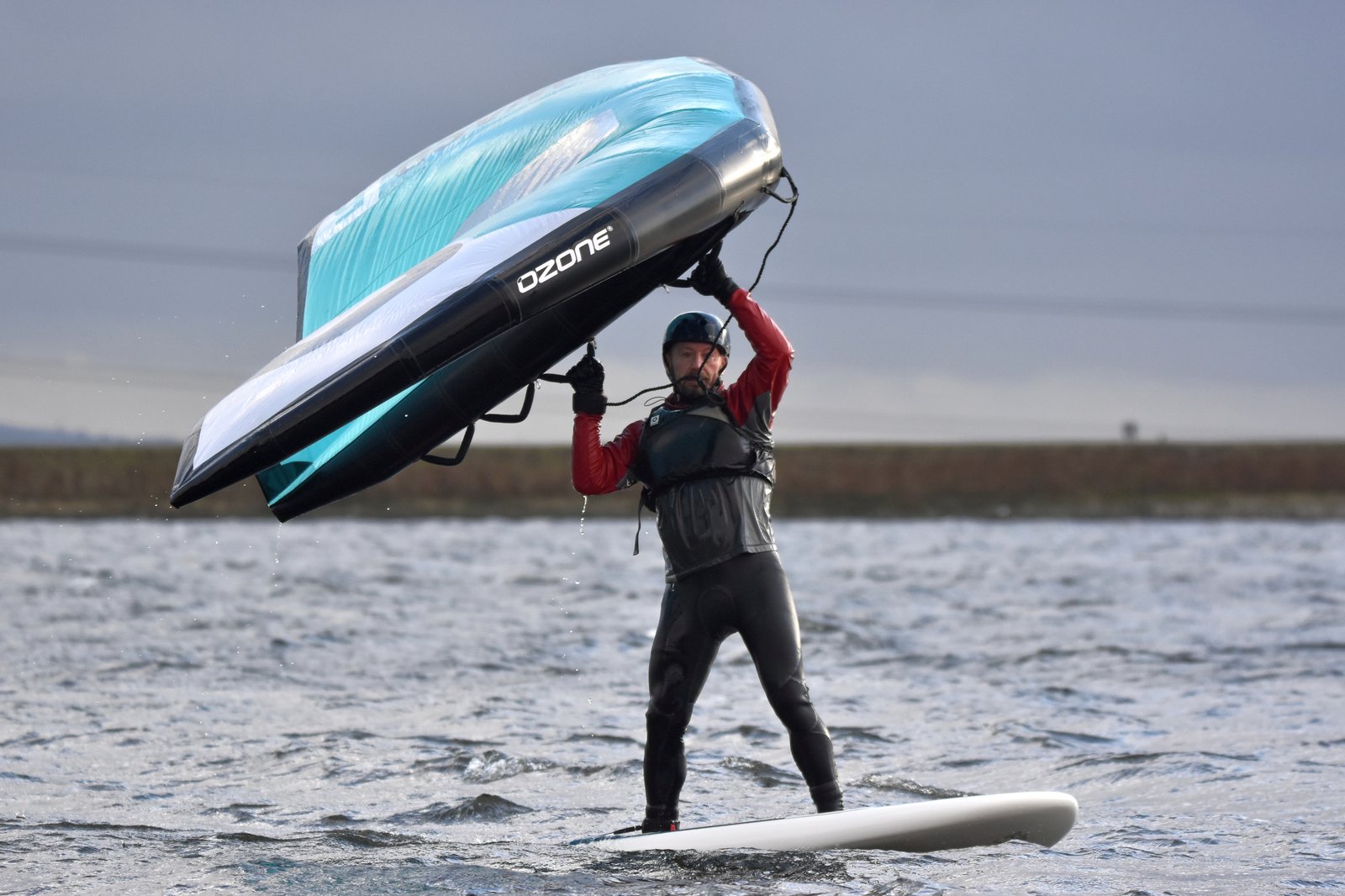 Is it easier than windsurfing on your back / shoulders / arms? Yes, it's much lighter than windsurfing kit to handle on the water. The wing flies itself, and the board is smaller and lighter than a windsurfing board.
Is it easy to set up? Yes, it's really quick to set up. The wing pumps up in less than a minute, and doesn't require any setting or tuning. The foil attaches to the board with a few bolts, and you're good to go.
What conditions do you need? You can wing in large range of conditions, from very light winds to strong winds, and it's fun in much gustier conditions than windsurfing. When you're proficient, it takes very little wind to get on the foil, and even less to stay there. In stronger conditions, it's easy to spill the power, or even de-power the wing completely. As a beginner, it's easier to learn in stronger winds than lighter winds, but it's hard to stay upwind, so pick your conditions. SW is best at Watergrove. Too much N or E and you'll end up with a long swim / walk / hike back to the club house. Too much S and you'll struggle to get off the beach, and end up with nasty scratches on your foils.
Where can you wing? Anywhere you can windsurf. If you're foiling, you need to make sure you have enough depth.
What kit do you need? To get started, just a wing. When you're used to handling that on land, you can progress to using it with a beginner windsurf board or SUP (which members can borrow from the club). The next progression is to get a foil and board. You'll also need to get a leash for your board (they are essential, but boards generally don't come with them), and it's advisable to wear a helmet and impact vest.
Do you need different kit for different conditions? You can get started with one set up. Wings have a much wider wind range than windsurfing sails, so you can get away with only one. As you progress, you have two options for tuning for different conditions. First is wing size. Smaller wings deliver less power, so you can switch down a size when the wind is stronger. Second is foil size. Smaller foils provide less lift for given power, so you have the option to change down as the wind gets stronger. It's personal preference whether you change one or both of these, and you can still get away with the same setup for all conditions. You don't need different boards for different conditions.
Do you have to use a harness? You can, but you don't need to. Winging is much lighter on your arms than windsurfing, particularly when you get on the foil. Some people like to use a lightweight harness and lines, but so far I'm preferring the simplicity of not using one.
Do you have to use footstraps? You can, but you don't need to. As a beginner, they can help you get your feet in the right place, and they can help with the technique for pumping the board on to the foil. However they can also get in your way, and make you feel a bit fixed in position on the board. Again, I'm preferring the simplicity of not using them so far.
Is it dangerous? It doesn't feel any more dangerous to me than windsurfing. You fall in from higher up, but you don't have a mast and boom hitting you on the head when you do. It's sensible to wear a helmet and impact vest to protect you from the foil, but I've found in practice, I rarely end up near the foil when I fall in. You pick up a lot of bumps and bruises as you're learning, but for me so far it's been nowhere near as painful as the 'catapulting' phase of windsurfing.
How do you get 3rd party insurance Ok, no-one has ever asked me this, but it's useful to know since it's required to sail at the club. You can get 3rd party insurance through the RYA, so if you also windsurf, the same membership covers both. You can also get cover through BKSA (kitesurfing), and possibly other associations.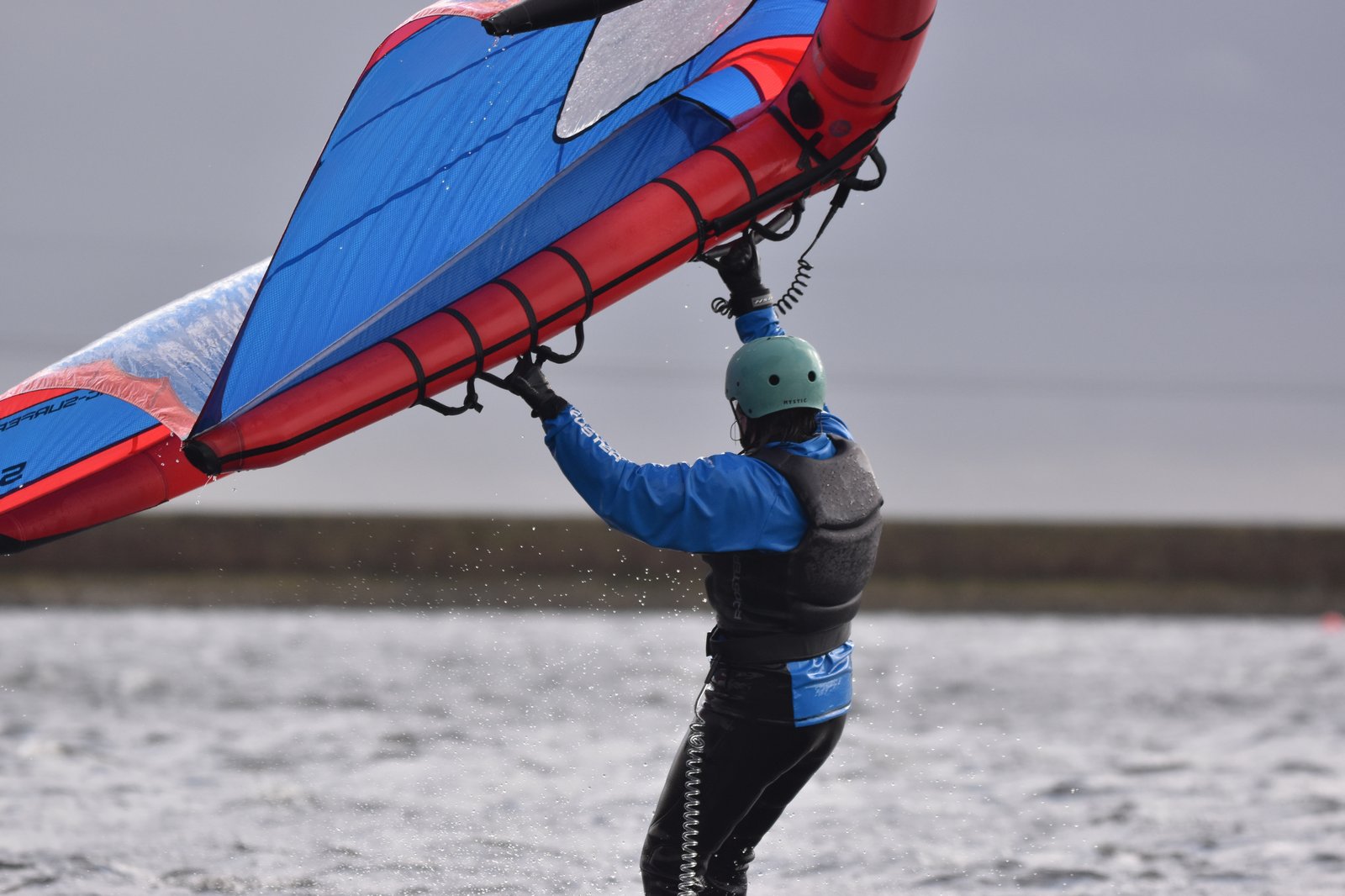 Useful links
This is a really comprehensive overview of what board and foil sizes you should be looking at for different rider weights, experience levels and disciplines. It's from Fanatic, but it's a good guide whatever brands you're looking at: https://www.fanatic.com/fileadmin/downloads/F20_Foilguide.pdf
These two videos from SUPBoarder take a detailed and technical look at kit, how it works, and what to take into account when you are choosing.
These are concise and informative 'getting started' videos from Robby Naish. Naish was (and still is) on the forefront of developing wing foiling, so he knows his stuff.
Here's a video from Damien Leroy, an experienced wing foiler, YouTuber and kiteboarding world champion. This is a 'getting started' video, but he's got lots of videos from beginner to advance.
Here are some how-to videos from the SUPBoarder team. Again, they are detailed and technical, and go from beginner to intermediate topics.