Details

Last Updated: Saturday, 18 September 2021 22:40
Inland Sea, 2021
Two trips .....
September
Seven members stayed this time for between 1 and 4 nights at Anglesey's Inland Sea. If you've never been, it's at Four Mile Bridge, near the pleasant little resort of Trearddur Bay and just past Valley. Unfortunately, the wind didn't properly oblige on this trip - that's the first time in 5 or 6 visits for me. There was some sailing in light wind on Saturday and most of us didn't bother on the other days, instead opting to go for walks or bike rides. The conditions did suit those who are newer to windsurfing though. What really made the weekend was the barbecue we had on the caravan site on Saturday night, with a full turnout including friends and family. We shared food, drink, stories and talked until late at night - thoroughly enjoyable. Well done Graham for suggesting that. Here's a photo of Phil to show that some windsurfing was done!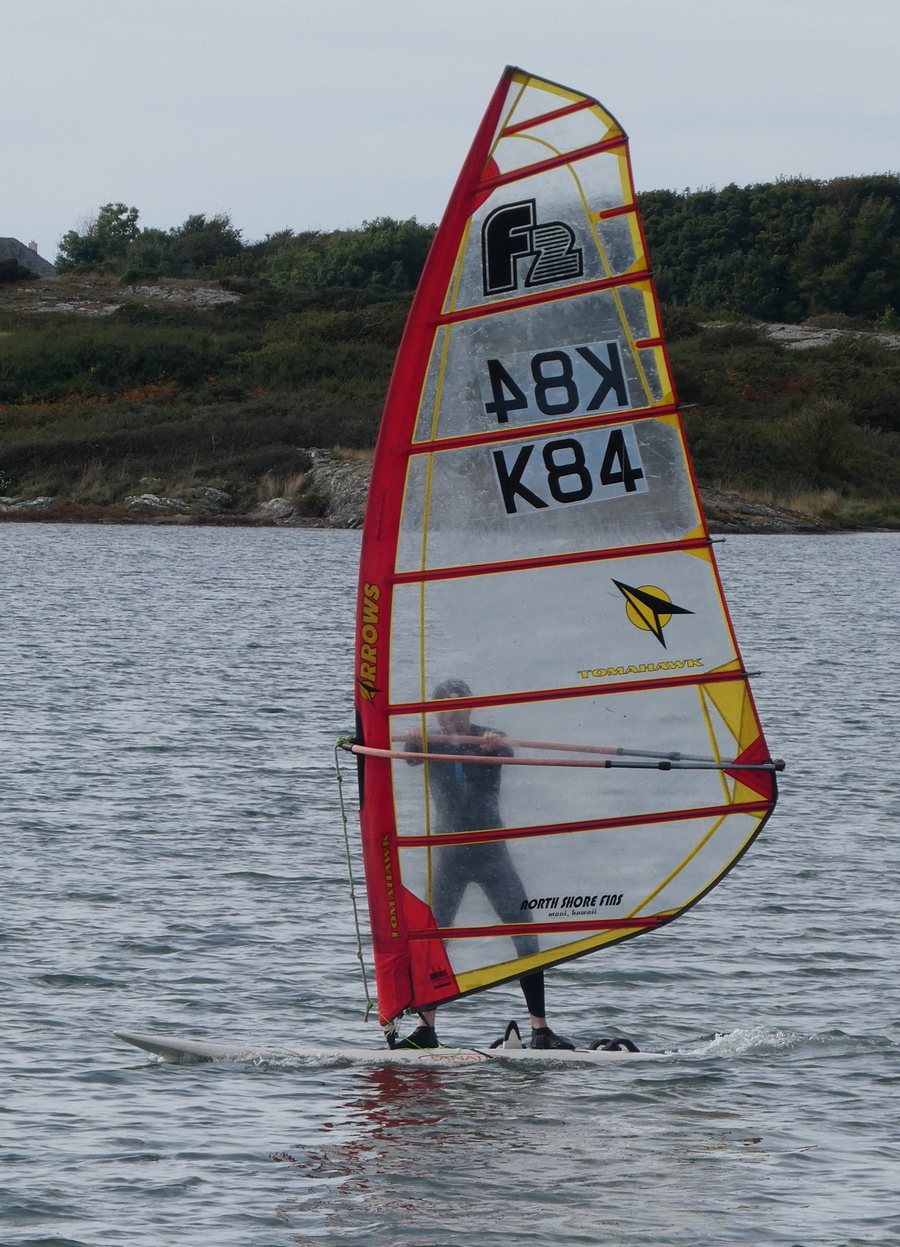 June
Seven members ventured across the water for a weekend by Anglesey's Inland Sea. Our numbers were boosted by another 4 friends and family and we almost managed a party atmosphere with a big birthday to celebrate. It's a gem of a location with most of the sailing area less than chest deep at high tide and it's sailable for at least 6 hours in spring tide conditions, which we choose for our visits. Amongst us we ranged from complete beginner to a couple of improvers and 5 old hands. Pen Y Bont Caravan Site has grass and hardstanding pitches, all with electric. It's a bit pricey at £32/night, but the brand new shower and toilet block is very nice and has only been open a month. Most pitches have a view of the water. Rigging is on grass and the water is then just a short walk. If you opt to just visit for the day there's a charge of £6 per vehicle.
Friday was a bit cold and raining lightly, but with a very consistent Force 5 the continuous planing and gybing made it feel well worth the effort! Saturday was a light Force 4 and Sunday was a bit stronger, with the sun shining both days. Sails of 6.5 to 7.5m were right for planing then. Our less experienced windsurfers stayed nearer to the launch area, where there's several hundred metres of water less than 4 feet deep to go at before the lagoon fans out into the much larger further area, much of which is also quite shallow. Here are a few action photos taken on the Sunday and a few others from the night before.